LATE FALL HOT SPOTS
Seasonal colors, picturesque waterways, and shoreline panoramas blanketed with fall foliage; boaters know the best place to view autumn's changing colors at the helm. As the leaves start to change, many American's plan road trips to areas decorated with fall colors. But views from a boat provide nature enthusiasts with a different type of scenic drive. In a compilation of top locales, we provide a list of the best places to cruise this fall, many of which offer cruising, rental and charter options.
Acadia National Park, near Bar Harbor, Maine, comprises 49,000+ acres of rock-bound coast on Mount Desert Island, a portion of the Schoodic Peninsula on the mainland, and offshore islands. Here in Acadia National Park you will find granite cliffs side by side with sand and cobblestone beaches. Glacier-carved mountains rise from the sea, cupping deep lakes in their valleys. Here, too, are meadows and marshes and dense evergreen forests. Everywhere the ocean makes its presence felt, whether by sight, sound, or smell.
Door County, Wisconsin. Situated on a peninsula on Lake Michigan, Door County is often referred to as the "New England of the Midwest." Door County is on a peninsula between Green Bay and Lake Michigan, in the state of Wisconsin. It's known for its long shoreline and many parks. Peninsula State Park on Green Bay is home to sheltered Nicolet Beach, with its calm waters. On Lake Michigan, Newport State Park is a wilderness park crisscrossed with trails. Potawatomi State Park, in Sturgeon Bay, is fringed by limestone cliffs The autumn months are ideal to drop anchor to discover quiet small towns and delicious local treats, including cheese, apples, cherries, maple syrup and the classic Wisconsin fish boil.
Located at 6,225 feet above sea level in the Sierra Nevada Mountains on the border of Nevada and California, Lake Tahoe is a boating paradise. Fall colors, food festivals, and wildlife are all on display in Lake Tahoe in October. Fall foliage along the shoreline is filled with varied hues of yellow as the aspen trees change color. Those looking to take in the sights aboard a boat have an abundance of options with numerous marina, rental and charter options at their fingertips.
Lake of the Ozarks, Missouri. A favorite vacation spot for families, Lake of the Ozarks offers late-season opportunities for viewing fall colors due to its milder temperatures. Numerous settlements are located near or on the Lake of the Ozarks. The largest is Osage Beach which sits where the lake's southeastern arm joins the main channel. The second largest is the city of Camdenton, located on U.S. 54 a few miles east of the southwestern arm. Lake Ozark lies immediately north of Osage Beach and just south of Bagnell Dam. The area boasts nearly 2,000 miles of idyllic shoreline featuring black gum, hickory, sweet gum, red maple, and dogwood and buckeye trees.
Tellico Lake, East Tennessee. A perfect fall boating destination, with more than 300 miles of shoreline with hillsides overflowing in crimson, gold and scarlet against the backdrop of the Great Smoky Mountains. With more than 15,000 acres of surface area, 373 miles of shoreline and waterways connecting to Fort Loudon Lake, the Tennessee River and other waterways, Lake Tellico is the perfect boating destination. It's an ideal spot to experience an array of fall colors from the pure blue waters that back up into the Great Smoky Mountains, where onlookers get a unique vantage point of hillsides overflowing in crimson, gold and scarlet leaves. Lake Tellico provides beautiful autumn scenery, but also offers scenic, long-distance cruising options.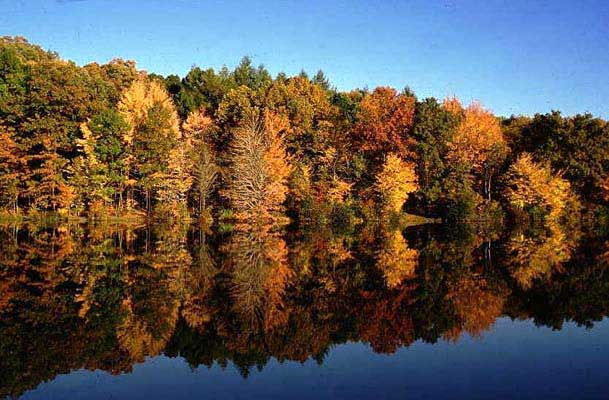 The arrival of fall does not mean the end of boating season. Just keep in mind fall's safety tips as seasons change, the waters change. Gas up before you go, wear a life jacket, update your charts, and keep a 'weather eye.' Weather can change swiftly in the fall opposed to warmer seasons, it is crucial to be prepared before getting on board. Add a few extra layers of clothes and you're ready to hit the water!